Fort Bend County Traffic
Posted November 15, 2016 2:00:09 PM CST
Please feel free to use the following information for trip planning, or for disaster planning purposes.
All of the information on this page is provided by Houston TranStar.
Click here for dynamic message sign information.
Fort Bend County Cameras
US-59 Southwest at Shepherd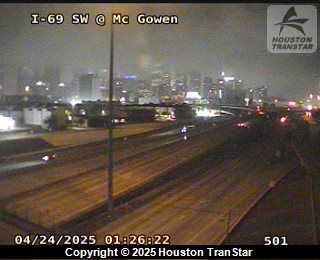 Tip: Select a camera and use your up and down arrows to quickly scroll through them all.
There are a few intersection cameras in Fort Bend County as well: SH-36 at FM-1236 in Needville, SH-36 at Needville Colony, SH-36 at US-90A in Rosenberg, SH-6 at Voss and SH-6 at FM-521 in Arcola
Fort Bend County Traffic Management Plan